How to Locate a Lost Cell Phone That Is Turned Off on Android & iOS: Best Trackers
Found yourself in the situation when you lose your Android? Well, you're not alone. Statistics show that about 113 smartphones go missing each minute in the U.S.
While tracking the phones of your friends and family members is simple, locating a lost phone becomes more challenging, especially when the device is turned off.
It's one thing if your battery dies and you accidentally leave your phone in the office, but it's a different scenario when thieves intentionally turn off the device to avoid being detected. But there are still easy and effective methods to track a lost phone.
#1: Track a Phone That Is Turned Off With Scannero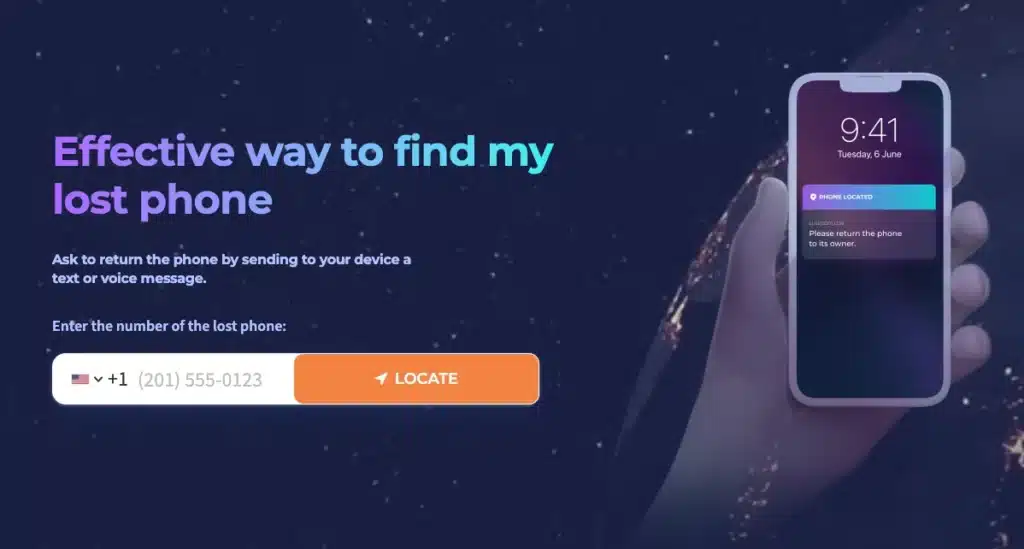 Scannero is a phone tracker by a number that lets you easily locate your device. Being compatible with both Android and iOS, this service is a great solution for those wondering how to locate the turned-off phone.
Scannero offers a message sender feature to ask the person who has found your phone to return it to you. The best part is that you don't need an app, as it's an online service. If you have another smartphone, computer, or laptop on hand and it's connected to the internet, you're good to go. To send a message to your lost phone through Scannero, follow these steps:
Visit this page, enter the number of your missing phone, and press Locate.
Create an account and purchase a 1-day trial.
Type the message asking to return your phone. Include details like name, email, alternative contact number, and reward amount as a motivation.
Send the message to your phone number and wait for the person to contact you.
You can also try to use location tracking by number. The process looks similar, but this time, there will be a location-sharing link included in the texts. If someone finds your phone and clicks on this link, Scannero will display their location in your dashboard.
#2: Locate Missing Android Using Google's Find My Device
Google created a feature called Find My Device specifically for those wondering how to track a phone that is off. It's super easy to use and allows you to find any Android phone. To use it, you need to have a Google account connected to your device and have location services and Find My Device services enabled.
If the Find My Device location is turned off, your phone is not connected to mobile data or Wi-Fi, and the battery is dead, the service can only display the last known location. But this can still be helpful. You can at least get to this place and try to find your lost phone. Let's see how it works:
Sign into your Google account on another Android device or in a browser.
Choose your missing phone from the list of devices.
See the last known location on the map.
If the phone is turned on and you find its location, you can go there and tap Play Sound to make it easier to find.
If you can't go to the place to get your device back, you can secure the device with a password or erase all data on your phone. After erasing, the service will no longer work on your device.
#3: Use IMEI Tracker to Locate a Swiched-Off Phone
Type "find my phone offline" in the Google search bar, and it'll give you thousands of results. If you're looking for a simple method that works great on Android and iOS, then you should consider an IMEI tracker.
IMEI is a unique number to identify any device, regardless of operating system. Earlier, only police could use this number to find someone's lost phone or the one used by some criminal. With the development of technology, anyone can do the same now. Here's how to locate a phone that is turned off by the IMEI number:
Find the IMEI tracker in the App/Google store or use an online service.
Ensure you grant all necessary permissions if you choose to install an app.
Enter your IMEI number and let the app locate your lost phone.
It's important to know your IMEI number before you lose your phone. Otherwise, you won't be able to track it. Just enter *#06# in your dialer, and IMEI will appear on your screen. You can also find this number in your setting. Remember to save the number in a secure place in case your phone gets lost or stolen.
#4: Contact the Mobile Carrier to Find Your Lost Phone
If none of the previous methods track a phone that is turned off haven't worked, you can try to reach out to your mobile carrier.
Most mobile carriers have their own GPS tracking services, which use the signal strength of nearby cell towers to give you the approximate location of your device.
While not perfect, this method can give you an idea of where your lost cell phone that is turned off might be. Remember to identify your carrier before misplacing your phone. For this, go to Settings, find the About phone tab, and click Model & hardware.
Once you know your phone carrier, you can visit their website to find contacts and report a missing phone. Like Google's Find My Device, this method allows you to lock your phone and erase data remotely.
Last Words
Losing a phone can be a distressing experience, especially if it's turned off. Remember that getting emotional doesn't actually help resolve the issue. Instead, it's better to stay calm and try the methods discussed in the article.
All of our tracking solutions are easy to use and won't require much, if any, cost. If none of the tracking methods prove successful in locating your missing phone, you always have the option to report this issue to the police.
To minimize the consequences of losing a phone, take proactive measures and set up a lock screen, turn on location tracking features, and back up your data regularly.